Submitted by Anders Batten on
Google rolled out a huge update to its iOS Maps app on Tuesday. Version 3.0 of Google Maps adds several new features such as lane guidance, Uber integration and the ability to save offline maps to a custom list for quick access.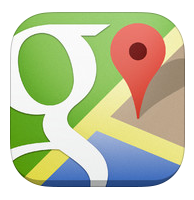 Lane guidance is a pretty standard feature on most GPS devices. It lets drivers know which lane of traffic is the correct route so they do not miss important turns or exits. The new offline mode allows users to save maps to a custom list in case they run into a bad network connection or are worried about data charges. Other new driving features include the ability to view travel time and distance in navigation mode and the ability to search for local businesses by rating, price, opening hours, and more.
Version 3.0 also adds walking times to Transit mode and lists the next scheduled bus or train in case you miss your first option. Users who have the Uber app installed on their device will now have the option to open it when comparing route options. Just scroll down to the bottom of the page until you see the "Get an Uber" panel to access the app.
Google Maps version 3.0 is now available as an OTA update or for free on the Apple App Store. To update your app navigate to the App Store app > Updates and tap the "update" button.