Submitted by Marshall Walker on
Much like Apple's iOS 6 Maps app, the mobile payments Passbook app is a work in progress. iOS users will eventually be able to keep thousands of store coupons, boarding passes and store cards in one place. For example, Starbucks Card owners can now pay for food and beverages through the Passbook app.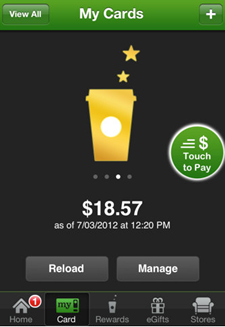 Users can add their add their Starbucks Card to Passbook by accessing the "My Card" tab in the Starbucks application. The Starbucks app version 2.4 also allows users to check their balances, reload their cards, track their "My Starbucks Rewards" status and send eGifts to a friends.
Even though the Strabucks app has been updated with iOS 6 support, it hasn't been formatted to fit the iPhone 5's 16:9 aspect ratio. Meaning iPhone 5 users are stuck with the 4:3 format. The Starbucks app v.2.4 with Passbook support is available now for free via the App Store.