Submitted by Colin Breck on
Customers who are familiar with the shopping frenzy that often surrounds highly anticipated new products, such as electronics, video games and toys, now have a valuable new tool to aid in their search for these hard to find items.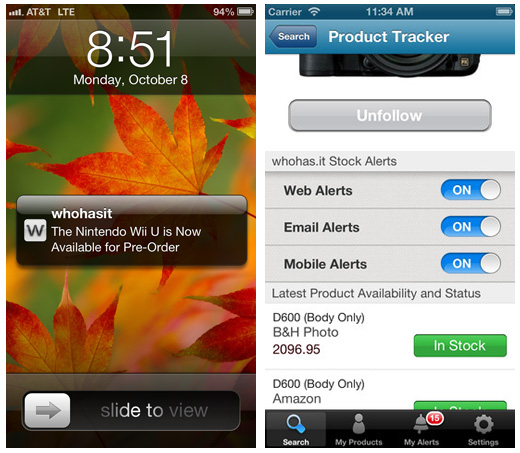 Online media and publishing firm Cignal Media LLC announced today the launch of whohas.it, a new online service that allows users to monitor and locate hard to find, out of stock or pre-release products. When paired with the whohas.it app, now available for the iPhone, iPad and iPod Touch, hopeful shoppers can receive realtime notifications when the product they are searching for arrives in stock or becomes available for pre-ordering.
"With the holiday shopping season upon us, we're excited to formally announce whohas.it to the public" a spokesperson for Cignal Media said. "We're only half way through October, and already there are a number of products that customers are having a difficult time finding. Instead of running from store to store or frantically and repeatedly searching the web, customers can rely on whohas.it to do the job for them."
Both the whohas.it web site and mobile apps offer an incredibly simple, easy to use interface through which users "follow" products they are seeking. Users then select from several notification options, which include notifications sent to their mobile device, email or desktop computer.
whohas.it continuously monitors thousands of web pages and retailer databases for changes in product availability. When a product becomes available, whohas.it dispatches alerts to its users, typically within seconds of a change in status, allowing shoppers to take action before a product once again becomes unavailable.
"We think whohas.it will be an invaluable tool for shoppers this holiday season and beyond," Cignal Media's spokesperson noted. "We're already hearing from users that were able to cross items off their holiday shopping lists that they were having a hard time locating, such as the Nintendo Wii U or the newly re-introduced Furby toys, thanks to whohas.it."
An Android version of the whohas.it app is planned for release in late October or early November.
"Android users can still take advantage of whohas.it by signing up via our web site and configuring email alerts. Practically everyone receives email on their mobile devices these days, and while email alerts aren't quite as fast as our mobile notification system, they're the next best thing," Cignal Media's spokesperson added.
whohas.it is compatible with iPhone, iPod touch, and iPad. Requires iOS 4.3 or later. The whohas.it app is optimized for iPhone 5. The whohas.it app is a free app available the App Store in the Utilities section.
whohas.it Web Site: http://whohas.it
whohas.it in App Store: View in Web Browser / iTunes