Submitted by Frank Macey on
The Apple Store isn't the first place that comes to mind when it comes to buying light bulbs. Philips is looking to change all that with what they're billing as the "world's smartest LED bulb" scheduled to hit Apple Stores on October 30. The energy-efficient bulb system is called hue.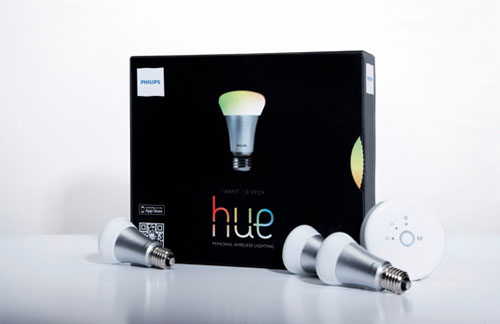 Hue makes it possible to remote control the bulbs from anywhere using an iOS app. The lighting can be adjusted to fit specific colors or a variety of shades of white light. Controlling and monitoring the lighting in your home can make it look like you're there even while traveling.
Philips listed the key features of hue ahead of its release:
- Tune shades of white light or create any color
- Save your favorite light scenes for each room or time of day and recall them in an instant
- Use any photo on your phone as a color palette to paint your room with light
- Tune white light from warm candlelight to vibrant, cool white light
- Create ambience or complement your decor with the colors of the rainbow
- Control and monitor your lights remotely when not at home for security and peace of mind
- Set timers to help manage your daily routine
- Let light wake you up refreshed or help your loved ones fall asleep
- Four pre-programmed lighting settings to help you relax, read, concentrate or energize
The company has additional features in the works, such as geofencing that would automatically turn on lights when an iOS device owner gets close to home. Hue will only be available at the Apple Store with systems starting at $199 for three bulbs and a wireless bridge. The bridge supports up to 50 bulbs, which will sell for $59 a piece.
Find out more at meethue.com.