Submitted by Frank Macey on
An exciting new project is being funded on Kickstarter, to the tune of $1 million in just 28 hours. The Pebble smartwatch links up with your iPhone and can be fully configured to run a variety of apps. Aside from customizing the e-paper watch face, Pebble owners will be able to receive information on their wrist without ever pulling out the iPhone.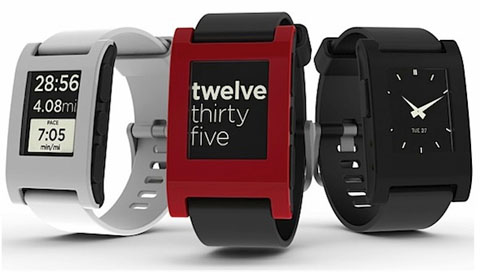 Pebble will notify the user of incoming calls, emails, calendar alerts, Facebook messages, Tweets, and Weather alerts for starters. To clear a notification from the watch, simply shake your wrist thanks to the built-in accelerometer. Pebble includes a silent vibrating alarm as well.
Attached to a 22mm watch band, Pebble recharges via a special USB cable and will run up to 7 days on a single charge. Other specs include an ARM processor, backlit 144 x 168 pixel e-paper display, Bluetooth 2.1 + EDR, 4 control buttons, and a scratch and shatter resistant lens with anti-glare optical coating. The device will be water resistant and the developers of Pebble will launch an SDK for those looking to make their own watch apps.
Since Pebble is always connected to your iPhone, it pulls data from the Internet and the iPhone's GPS at will. Apps in development for the watch already include various offerings for activities such as cycling, running, many watch faces, music control and even a golf rangefinder. Apps are installed to Pebble via Bluetooth directly from the iPhone. Pebble can even send data from its buttons and accelerometer back up to the Internet.
Pebble will be available in black, red and white with a fourth color determined by a Kickstarter backer vote. Right now you can guarantee yourself a black Pebble for a $115
pledge of support
to the project. The watch will be compatible with the iPhone 3GS, iPhone 4, iPhone 4S and any iPod Touch running iOS 5. Pebble Technology plans to launch the watch this fall for a retail price of $150.