Submitted by Frank Macey on
Forget about thermostats and light bulbs. The next iPhone-friendly home improvement is already here, and it's called Kēvo from lock maker Kwikset. Thanks to Bluetooth this UniKey-enabled wireless deadbolt unlocks with a simple touch, that is as long as you have your iPhone, iPad or iPod touch somewhere close-by.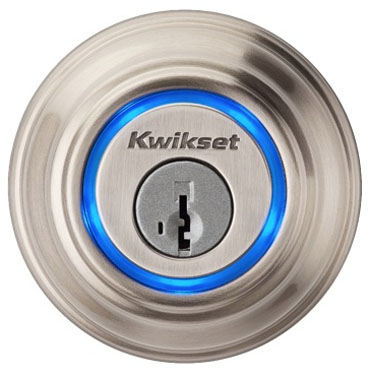 Once your iOS device is paired with the Kēvo, the deadbolt detects that an authorized device is within range and will lock or unlock when touched. The slick built-in light even flashes green to indicate the lock is being activated successfully. Bluetooth 4 is required, so that limits compatibility to at least the iPhone 4S, iPad 3, iPod touch 5G or newer devices. Low energy consumption means the four AA batteries installed in your door last a whole year.
For those worried about security, there are several features to keep strangers with iPhones from opening your front door. First off the Kēvo uses military-grade encryption when it's communicating over Bluetooth. Not only this, but only one device at a time can be connected to an account, much like only one physical key can be used in a lock. Since you must be logged into a UniKey account to operate your lock, logging in from a different iOS device automatically removes access from any device (lost or otherwise) you have previously paired.
The lock itself can be re-keyed to use an existing physical key from an old lock, and can be locked without a key or iPhone with a special sequence of taps by anyone. The companion UniKey account and iOS app really gets fancy when it logs entry and exit to your home or sends real-time alerts via notifications, text or email. eKeys can even be loaned from anywhere with the app to iPhone-toting family and friends, letting them access your front door when needed for a limited time.
In case you were wondering, Kēvo will also recognize whether or not the paired iOS device is inside or outside of your home, preventing random strangers from touching your deadbolt to enter. The Bluetooth deadbolt will be
available for pre-order
in June with pricing set at under $250.