Submitted by Bob Bhatnagar on
With the appropriately geeky tag line, "Take THAT BlackBerry!" the shopping website ThinkGeek has announced a flip-out physical keyboard accessory for the iPhone 4 and iPhone 3GS. The TK-421 iPhone case comes complete with a rotating hinge and its own built-in Bluetooth mini-keyboard.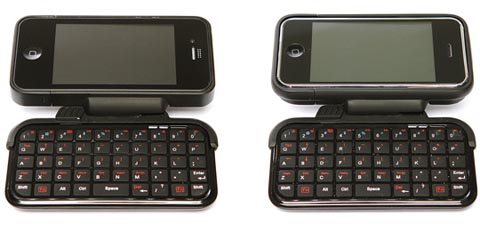 The TK-421 is no iTwinge, but it does have a similarly odd name. The keyboard has its own USB-rechargeable battery and works with any application that already uses the on-screen keyboard. The product provides protection for the sides and back of the iPhone just like a case.
A magnetic clasp holds the keyboard stationary until needed, and the TK-421 will come in two form-fitting individual models for the iPhone 4 and iPhone 3GS. Apple has not added Bluetooth support for keyboards to any iOS version running on the iPhone 3G, so although it might look good the device won't work with older iPhones. ThinkGeek will begin shipping the QWERTY keyboard accessory in limited quantities during the last week of November for $49.99.
Thanks to the dimensions of the iPhone and to maximize keyboard space, the TK-421 can only be used in landscape orientation. To flip the keyboard in or out of its holding position, the entire unit spins 180 degrees. Dimensions for the case aren't listed but it looks like the hinge protrudes out slightly from one side of the case. The keyboard will also add some thickness to the back of your iPhone, although it makes netbooks look like ENIAC. See, this is what happens when you shop at ThinkGeek.