Submitted by Thomas Estilow on
Soon iPhone owners with Sirius XM subscriptions will be able to drop an extra $120 to listen to Taylor Swift in their cars. Sirius XM has finally announced an all-in-one dock that will convert your iPhone or iPod Touch into the ultimate mobile satellite radio listening machine.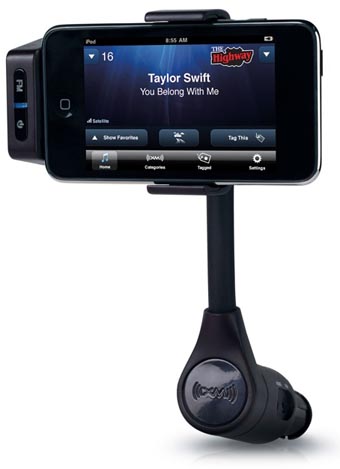 The adapter hardware plugs into the automobile's 12V DC power jack (previously known as the "cigarette lighter" if you're older than Taylor). Snap in your iPhone and fire up the free app and you're ready to take advantage of your existing satellite radio subscription.
The device is currently under review by the FCC and is the first radio dock of its kind for the iPhone and iPod Touch. SkyDock will charge your iPhone as you listen to Howard Stern, live MLB and NFL sports, and Billboard Hot Country Songs by Taylor Swift.
The adapter is due for release this fall and requires iPhone OS 3.0 firmware. A complete package of 180 satellite radio channels starts at $16.99 per month.
SkyDock will connect to the car's radio with auxiliary cables or PowerConnect, which allows a connection directly to the car's in-dash wiring. The snap-in cradle will accept any generation iPhone or iPod Touch device.
From the NYC media event that announced the product:
Listeners can use their iPod touch and iPhone to listen to all their favorite sports, talk, news, entertainment and commercial-free music programming, including Oprah Radio, MLB Home Plate, the PGA TOUR Network, Opie & Anthony, Bob Edwards, Jamie Foxx and Blue Collar Comedy. For the first time, subscribers can also listen to the complete "Best of SIRIUS" package, including Howard Stern and his two 24/7 channels, Martha Stewart Living Radio, SIRIUS NASCAR Radio, sports play-by-play and the Playboy Radio channel, all controlled by the iPod touch and iPhone.
Listeners can also tag songs they hear on XM's music channels for later purchase from the iTunes Store–including songs on XM's 24/7 artist branded commercial-free channels such as Jimmy Buffett's Radio Margaritaville, Elvis Radio, Eminem's Shade 45, The Grateful Dead Channel, B.B. King's Bluesville, Willie Nelson's Willie's Place, Siriusly Sinatra and Bruce Springsteen's E Street Radio. Other features include game alerts and sports ticker, artist and song alerts as well as a stock ticker.
Thanks to Digital Daily for the headline.