Submitted by Bob Bhatnagar on
The next iPhone 5 is rumored to have a larger home button that would make it possible to use gestures to perform actions without even touching the display area. Some reports even pointed to a home button area that did not involve a physical button, but instead had lighted indicators embedded in the bezel. These designs could be reality if a leaked iPhone 5 screen protector is the real McCoy.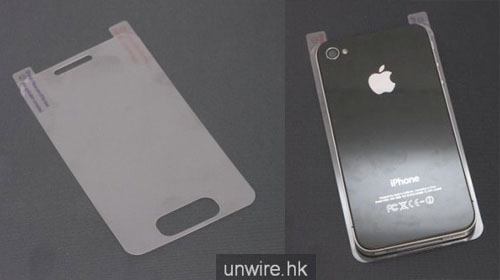 At first glance the wide home button cutout appears to be the only difference between this screen protector and current models. The folks over at unwire.hk compared this product to an iPhone 4 in the photo above and the next generation screen protector is actually wider.
This fits with other reports claiming the iPhone 5 will sport a larger screen. Case leaks and other sources have indicated that the next iPhone will squeeze up to a four-inch display into almost the same space as the iPhone 4. This would be achieved by reducing the width of the bezel surrounding the display. If the leaked screen protector is made to Apple specifications, we can see that a larger screen is likely since the iPhone 5 would be slightly wider to accommodate this design change.
Of course it's possible this screen protector is designed for an iPhone 4S or future model iPod touch. In any case, observers have consistently referred to the next generation iPhone as a slimmer model. The iPhone 4 is already the thinnest smartphone on the market. Being a design-oriented company Apple is surely keen to retain this title as long as possible. A wider form factor would not only accommodate the larger screen, but also provide more space for internal components that would have less room in a thinner device.
Whether or not this screen protector is real, we are sure to see more accessory leaks as the world anxiously waits for Apple to reveal the iPhone 5.