Submitted by Bob Bhatnagar on
The Apple Lightning connector launched alongside the iPhone 5 has several advantages over its 30-pin predecessor, that is unless you own a variety of older accessories that aren't compatible. Besides a smaller footprint and simpler, reversible operation, the Lightning connector has also proven to be difficult for third-party manufacturers to replicate. The current adapter sold by Apple retails for $29.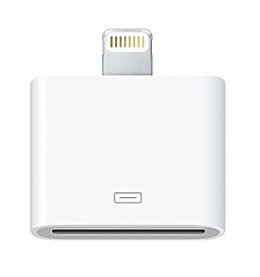 Apple could be working on an easier way to connect 30-pin dock accessories and the iPhone 5 if a patent revealed by Apple Insider means anything. The ability to wirelessly send data to any accessory would improve the functionality of the iPhone 5 with previous-generation docks.
The Apple patent describes a wireless adapter that is smart, making it possible to dynamically connect to various accessories on-the-fly and provide whatever signals are necessary for proper operation. This would mean that one device, such as an iPhone 5 or iPod touch could effortlessly connect to a variety of accessories, switching between Wi-Fi, Bluetooth or other protocols as needed.
The patent also describes a mechanism that would transmit authentication information wirelessly, such as Made for iPhone credentials to ensure licensing. An earlier adapter patent was first filed in 2008, with the latest one titled "Wireless adapter for interfacing between an accessory and a device" and filed in September 2011. There are already some Bluetooth wireless adapter solutions on the market to help connect audio docks with the iPhone.
Wireless adapters cab make it even easier to get more usage out of older accessories that don't support the Lightning 8-pin connector, but there's no telling if Apple plans to release such a device in the immediate future.