Submitted by Bob Bhatnagar on
The market for third-party iPhone 5 accessories continues to grow, and Lightning-compatible options are no exception. We've already seen an illuminated iPhone 5 Lightning cable as well as some less expensive versions of the standard Lightning to USB cable. Now you can purchase an iPhone 5 dock stand just in time for the holidays.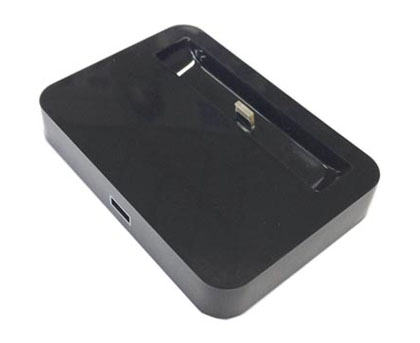 USB Fever has two different options for those looking to conveniently dock their iPhone 5. The first model is the Charging & Sync Dock Cradle for iPhone 5. This basic version is pictured above and accepts your Lightning to USB cable in the rear port. Available in black or white, the price with no cables included is $15.99 plus shipping.
If you're looking for a more sophisticated iPhone 5 dock, you can try the Charging & Sync Dock Cradle with Audio Out. The audio out model is a little different, only coming in the color white and selling for $24.99. What's interesting is this version accepts an older 30-pin to USB cable on the rear port. It also features an audio plug that connects to your iPhone 5 when you place the iOS device in the cradle. The back has audio out that you can connect to a stereo or other device using your own audio cable.
Overall, these two products are simply designed and the only drawback is that you have to supply your own cables. Otherwise, for those in the hunt for a reasonably priced iPhone 5 Lightning dock stand, these options from USB Fever should fit the bill. Apple offers an official 30-pin connector dock for $29, however the company has not announced plans to sell a Lightning-compatible dock for the iPhone 5.