Submitted by Frank Macey on
So you dig that cool wrist strap that Apple includes with the iPod touch? Now you can get a slick, leather loop for your iPhone 4 or iPhone 5. This is a really simple idea that helps to keep the iPhone secure in your hand, making the device more like a pocket camera and protecting it from falling.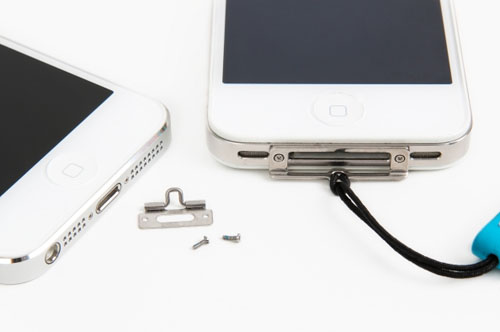 Photojojo is offering the iPhone wrist strap for $35, and the accessory is fully compatible with the iPhone 4, iPhone 4S and iPhone 5. You can even continue to use most cases with the lightweight aluminum bracket installed.
Speaking of installation, the bracket screws flush to the bottom of the iPhone. Just use the included screwdriver to remove the two bottom screws from your device. Installing the bracket is as easy as placing it in the right location and putting the new, longer screws that are provided into the iPhone. The bracket provides a sturdy anchor surrounding the dock connector port that can be used to attach the vegetable-dyed leather strap.
Besides helping photographers keep a better grip on their iPhones, the wrist strap can help anyone worried about dropping their expensive smartphone to have a little bit more security. You could even use the strap to hang the iPhone up temporarily when not in use. Shoppers can find the iPhone wrist strap at Photojojo in blue, brown or red.