Submitted by Bob Bhatnagar on
When it comes to iPhone jailbreak tweaks, there have been many attempts to improve or replace the stock multitasking app switcher. Some find the multitasking dock painful to use, including having to scroll all the way to the left to find a volume control. Now for those with jailbroken devices there's a tweak called jLauncher that makes multitasking better.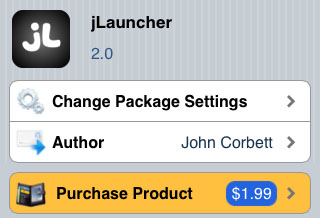 Once installed, jLauncher can be invoked with any Activator gesture. This also means you must have the Activator package installed on your device. Double pressing the home button is how the stock multitasking app switcher pops up on an unmodified iPhone. Assigning this gesture to jLauncher will effectively replace the old dock.
What you get in its place is an attractive, full screen multitasking and control center. On the right, there's a scrolling bar of your running apps and recently used apps. Look left and most of the screen is filled with music controls, including the album cover of whatever track is playing in the Music app. Along the bottom you'll see sliders for complete control over display brightness and volume. jLauncher also features a clock just like the lock screen.
Not only is jLauncher attractive when it's open, the tweak animates as it opens and closes for an attractive, professional iOS look. Deciding how the jLauncher appears is as simple as configuring the action under Settings -> Activator. Multitasking finally gets the full screen treatment it deserves. You can find jLauncher on Cydia in the BigBoss repo for $1.99.