Submitted by Bob Bhatnagar on
Cropping a screen capture on the iPhone normally requires several steps to get the desired image. After all, every time you snap a screenshot by pressing the power and home buttons the entire screen area is captured to the Camera Roll. The jailbreak tweak ScreenshotPlus changes how this works, so you can pre-crop any screen capture before saving.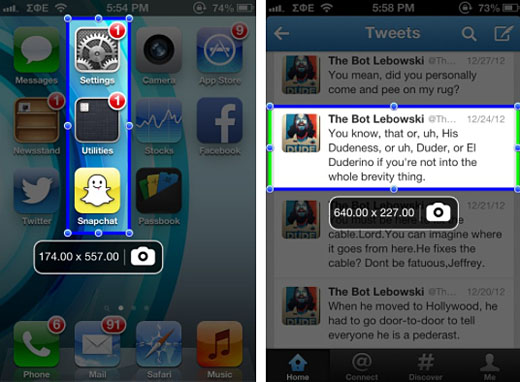 Once installed, ScreenshotPlus only has one setting to configure. This option toggles whether or not the tweak displays the dimensions in pixels of the cropped screen shot selector box. In order to use ScreenshotPlus, an Activator gesture must be assigned to "screenshot mode". Once configured, enter screenshot mode by performing the selected gesture.
Dropping into screenshot mode makes it possible to drag a blue box over the captured screen shot, selecting the area to be saved. Grab the blue circles to change the size and shape of the box then tap the camera icon to save. The greyed out area outside the blue box will be discarded. No need to crop your screen capture after the fact using Edit from the Camera Roll or a third-party application.
ScreenshotPlus is available on Cydia from the BigBoss repo for $0.99. Check here for instructions on how to jailbreak iOS 6.x with evasi0n. You can also find out how to purchase and install Cydia tweaks with this guide.