Submitted by Bob Bhatnagar on
The iOS app dock keeps four icons at the bottom of the home screen at all times. This provides easy access to your most frequently used apps. InfiniDock, another great jailbreak tweak from chpwn, expands the capabilities of the iOS dock, making it possible to add more apps to the dock and scroll through them left to right.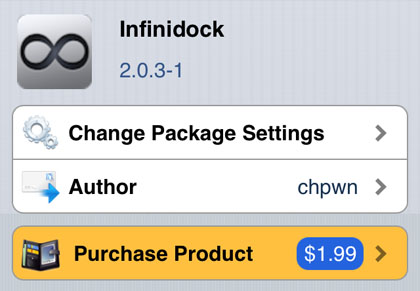 There are several options available to make InfiniDock behave in different ways. For one, you can add many extra icons to the dock. Although this won't appeal to everyone, up to 10 app icons can be displayed on the dock at once. Another way to increase the number of icons is to simply add icons to the dock without changing the number displayed from four.
This will add icons horizontally to the iOS dock, much like adding icons to new home screens. Settings -> InfiniDock -> Paging will control whether or not the dock jumps to a new page when scrolling or scrolls continuously from left to right. Scrolling Snap decides if the dock will snap to the next complete icon, keeping the same number displayed at all times. With Scrolling Snap -> OFF and Paging -> OFF the dock can be scrolled and left in a position where app icons are partially hidden off screen.
Some other cosmetic options include Scrolling Bounce for that natural Apple feel, and Scrollbar Style which will indicate how much total home screen dock width remains with a subtle bar. Overall, InfiniDock provides more versatility to quickly access your most frequently used apps directly from the iOS dock, without worrying about the default limitation of four icons.
InfiniDock is available on Cydia from the BigBoss repo for $1.99. Check here for
instructions on how to jailbreak iOS 6.x with evasi0n
. You can also find out
how to purchase and install Cydia tweaks with this guide
.