Submitted by Bob Bhatnagar on
Stock iOS alerts always look the same, but with the jailbreak tweak Alertmate installed, you can take control. Besides providing a long list of animation options to change the way alerts appear on your device, this free tweak from Daniel Taub offers different fonts as well. Once you've set the alert behavior and text, you can even have iOS to read the alert out loud.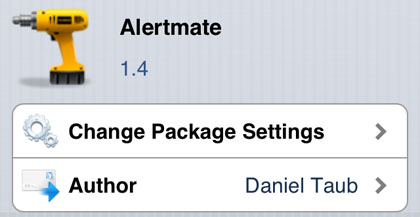 Settings are configured under Settings -> Alertmate after the tweak is installed from the Cydia jailbreak app store. Speak toggles are provided along with a choice of more than 50 fonts. Can't decide which animation to use for alerts? A random effect can be chosen automatically to keep things interesting every time you receive an alert.
Changing the alert settings with Alertmate doesn't require a respring, which makes customizing alerts incredibly convenient. In fact, the tweak even includes a test button right in the settings so you can see how your configuration will appear in practice. Effects to choose from include zoom, bounce, push, sliding, flipping, rolling and much, much more.
Alertmate is available on Cydia from the BigBoss repo free of charge. Check here for instructions on how to jailbreak iOS 6.x with evasi0n. You can also find out how to purchase and install Cydia tweaks with this guide.