Submitted by Bob Bhatnagar on
Texting can be quick and convenient, but sometimes things are better accomplished on a phone call. When viewing a contact's text messages in the Messages app, iOS does provide a Call button which dials the person whose texts you're reading. The problem with the Call button is its location, all the way at the top of all the messages.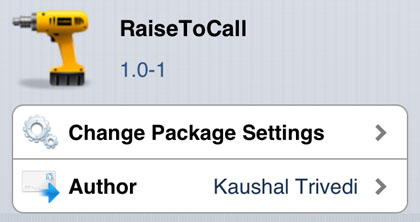 When there's a long thread of texts, it takes some time to scroll up to reach the Call, Contact Info, and Load Earlier Messages buttons. Thanks to the tweak RaiseToCall, this problem is solved on jailbroken iPhones by adding a feature found on the Samsung Galaxy S3.
Calling the person whose texts you're reading is as simple as lifting the iPhone to your ear. The proximity sensor will register that you're interested in calling that contact, and fire up the Phone app to start dialing. iPhone users are already familiar with Siri's Raise to Speak feature, which automatically engages Siri when raising the handset to your ear. This avoids having to long press the home button. RaiseToCall promises to be a similar time saver for those who often call contacts directly from the Messages app.
RaiseToCall is compatible with biteSMS and available on Cydia from the BigBoss repository for $1.99. Check here for instructions on how to jailbreak iOS 6.x with evasi0n. You can also find out how to purchase and install Cydia tweaks with this guide.