Submitted by Bob Bhatnagar on
Let's face it, there are some features of Android that iOS could benefit from having. Seriously, why doesn't Apple show photos in the stock Contacts list? If this is a feature that interests you, now that the evasi0n jailbreak is available you can easily add this to your iPhone. Jay Freeman, the creator of the jailbreak app store Cydia, developed Cyntact years ago and has kept it updated.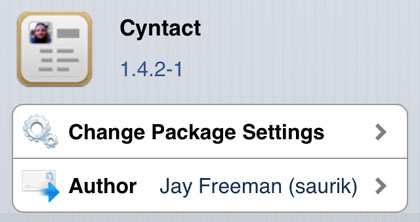 Once you install Cyntact, all of the photos associated with your contacts appear magically in the Contacts list. It's that simple. The photos will also appear in your Favorites. Sure, this tweak may not be essential, but it's a nice touch when you've spent the time to actually use photos on the Info pages of your contacts.
The best part is that Cyntact only costs $1.00 and all of the proceeds go to support the Cydia jailbreak app store. If you are enjoying your jailbroken device, buying Cyntact actually supports a good cause by keeping all those jailbreak tweaks available on Cydia.
To make your contact list look as it should, jailbreak your iOS device with evasi0n then get Cyntact from the Cydia/Telesphoreo repo on Cydia for $1.00.