Submitted by Bob Bhatnagar on
Some tweaks do simple things and do them well. If you are lucky enough to have a jailbroken iOS device, Bolt will make some extra space in your status bar by removing an obvious redundancy. Apple includes the option for users to display battery percentage remaining under Settings -> General -> Usage.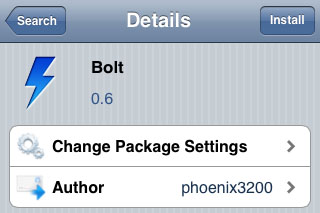 What Apple did not provide is a mechanism to subsequently remove the battery status icon from the screen. Why show the empty/full battery icon and the battery percentage next to each other? Bolt adresses this quirk by removing the battery icon once and for all.
You may be wondering why the tweak is called Bolt. Well despite the fact that the battery icon has disappeared, Bolt will still let you know when iOS is charging. A simple lightning bolt icon will appear next to the battery percentage remaining when the iOS device is plugged in. Definitely stylish way to show that the iPhone is charging without bringing back the battery status bar icon in full force.
Bolt can be installed from the BigBoss repository on Cydia for free. Once installed, the tweak will do its job without any options or settings to configure.