Submitted by Bob Bhatnagar on
Sure there's a default app switcher in iOS, and there are enhancements to this dock such as the must-have jailbreak tweak Auxo. Reminisce brings something different to iOS, a slick-looking app switcher dedicated to quickly launching recently used apps. Swiping from the side of the display brings up the last five apps that were opened on the jailbroken device.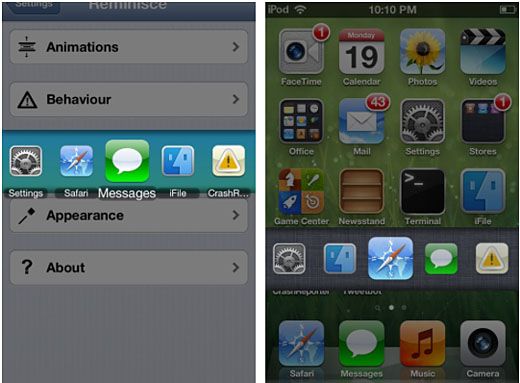 After these apps appear, simple hold your finger down and drag across to the app to launch. Once your finger is lifted off the screen, this recently used app opens and Reminisce will disappear. The gesture used to launch and use Reminisce is fast and fluid, making the tweak feel much like it's part of the default iOS interface. Of course, there are several settings that can be customized once Reminisce is installed from Cydia.
Reminisce can be enabled or disabled in its entirety or disabled in specific apps from the Behavior settings. This is handy when certain games involve plenty of swiping that could easily activate Reminisce by mistake. One-handed operation is determined by the Swipe Side, making the tweak respond to a swipe from the right side (for right-handed iPhone owners) or a swipe from the left. Another option allows up or down swipes on the edge of the screen to activate Reminisce. Advanced users can even assign an activator gesture to Reminisce instead of using the defaults.
When it comes to appearance customizations, there are many choices in Reminisce. There are two basic animations that can be selected, dubbed Push or Flat, with Flat carrying its own custom options. The app icons themselves can also be animated, so that they grow when selected like an OS X dock. Other appearance settings include whether or not to label each recently used app icon, and background color customization. Other settings such as label position, icon fading, screen blurring options and screen dimming options are also present.
Reminisce is available on Cydia from BigBoss for $1.99. Check here for
instructions on how to jailbreak iOS 6.x with evasi0n
. You can also find out
how to purchase and install Cydia tweaks with this guide
.