Submitted by Bob Bhatnagar on
There are many options when it comes to customizing the iPhone lock screen. Many of these jailbreak tweaks add app launchers and toggles directly to the iOS lock screen, speeding up access. Now BuddyLock joins the fray, with highly customizable theme settings, side view widgets and a built-in launcher for apps. In fact, the tweak even makes it possible to put a folder for additional app icons in the launcher.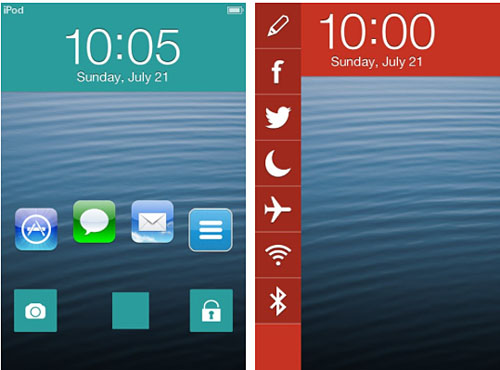 Besides a switch to enable or disable BuddyLock, the Settings area includes sections for Theming, Lockscreen Apps, Folder and Extras. Five apps can be added to the lock screen launcher, or four apps and a folder. If the folder option is set up, four additional apps can be accessed using the folder, making a total of eight apps accessible directly from the launcher.
Date Header Activators make it possible to set up a wide variety of actions that happen after the lock screen date receives a gesture. There are seven gestures to choose from and each can be configured to perform an action, such as enable Do Not Disturb or turn on the Flashlight.
Elements of the lock screen can be hidden or customized with theming, including colors, fonts and other specific settings to change the look of the slider, clock, etc.
The right and left Side Views can be configured to display Contacts, Playlists or Widgets. Users of the tweak can even select which widgets to use, choosing from Flashlight, Notes, Facebook, Twitter, Do Not Disturb, Airplane Mode, Wi-Fi and Bluetooth. Swiping from the right or left of the lock screen will bring up the configured option.
Besides having too many options to list here, BuddyLock does not require a respring to implement changes. This extensive tweak is available on Cydia from BigBoss at the incredibly low price of $0.99. Check here for instructions on how to jailbreak iOS 6.x with evasi0n. You can also find out how to purchase and install Cydia tweaks with this guide.