Submitted by Bob Bhatnagar on
Some iPhone jailbreak tweaks are classics. These are must-have tweaks that provide powerful features and have been updated by the developers across multiple versions of iOS. Springtomize 2 is one of these tweaks, bringing total customization to iOS 5 and 6.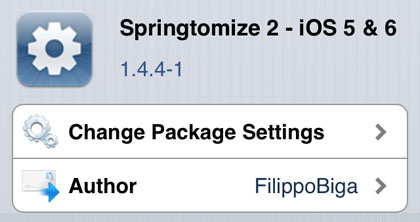 The Springboard manages the iOS home screen, and Springtomize makes it possible to modify even minor aspects of how your device looks and behaves. Once installed, Settings -> Springtomize contains almost every home screen modification you could imagine.
The developer of Springtomize has provided extensive descriptions of each mod accessible directly from More -> Documentation. Enabling customizations is as simple as flipping some toggles and dragging slider bars to the desired position. To see the results of your work, touch the Reload button in the upper right hand corner then press Respring. It's possible to change the look and feel of the Springboard so much that it feels like you're using a completely different phone.
Options in Springtomize 2 include Animations, Capabilities, Dock, Lock Screen, Icons, Folders, App Switcher, Time Machine, Status Bar, Pages, Theming, and last but not least Notification Center. It takes time to experiment with the plethora of different options available, which makes Springtomize worth every penny. If you ever want to disable the tweak there's a master toggle Enabled -> OFF to restore the default Springboard.
Springtomize 2 is available on Cydia from the BigBoss repo for $2.99. Check here for
instructions on how to jailbreak iOS 6.x with evasi0n
. You can also find out
how to purchase and install Cydia tweaks with this guide
.