Submitted by Bob Bhatnagar on
QuickShoot is one of those neat jailbreak tweaks that hides in plain sight, and performs a specific function to make your life easier. Sometimes taking a photo on the iPhone can involve too many steps. By the time you open the Camera app, adjust settings and snap a photo you could be missing the action.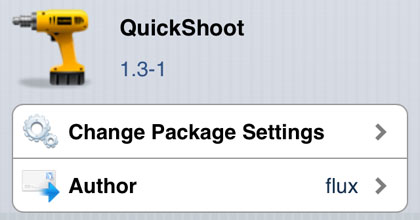 This is where QuickShoot steps in to streamline things. With QuickShoot installed, all you have to do is tap the Camera icon on the home screen once, and your iOS device will snap a picture. A red badge will appear with "…" signaling that your photo is in the process of being taken, and of course you'll hear the shutter release sound.
Granted, you can't preview the photo but this is what you give up for speed. There are also settings that can be configured under Settings -> QuickShoot. These options mirror the options in the Camera app. These include Flash Mode in auto or off, choosing which camera to use (front or rear), and HDR on or off. Note that enabling HDR mode will automatically disable the flash.
Test shots using the latest version of QuickShoot worked pretty well. It takes some practice to know exactly where your iPhone camera is pointing without the preview. Remember, QuickShoot snaps a photo when tapping the Camera app icon on the home screen, not by tapping the lock screen camera icon.
QuickShoot is available on Cydia from the BigBoss repo free of charge. Check here for
instructions on how to jailbreak iOS 6.x with evasi0n
. You can also find out
how to purchase and install Cydia tweaks with this guide
.