Submitted by Bob Bhatnagar on
App badges in iOS are informative but all those big red circles can become annoying. There are ways to quickly remove badges like Clear Badges, but this is a temporary solution. One thing you can do with a jailbroken device is customize the badge appearance to your liking.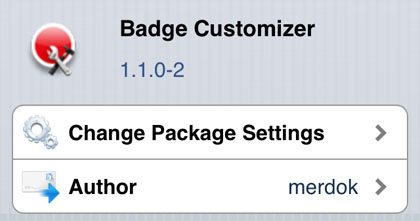 The appropriately named tweak, Badge Customizer is a free way to do just that. After the package is added from Cydia, there will be a new area in Settings -> Badge Customizer where all the magic happens. The first thing to notice is a conveniently located Respring button right in the tweak's settings to apply changes. Like many of these modifications, the effects of the tweak can be fully enabled or disabled with one toggle.
When it comes to customizations, everything from the badge color and size to the actual placement of the badge on the app icons is customizable. For example, you can change the color to something different than bright red for the badge backgrounds, then shrink the badge size. This can make the badges less obtrusive but still readable. The position is a matter of preference, with the default setting top right.
Another nice feature is that Badge Customizer lets you know what the default settings are in iOS, so if you want to return them to normal you won't forget what your home screen used to look like.
Badge Customizer is available on Cydia from the BigBoss repository for free. Check here for
instructions on how to jailbreak iOS 6.x with evasi0n
. You can also find out
how to purchase and install Cydia tweaks with this guide
.