Submitted by Bob Bhatnagar on
Wouldn't it be great if your iPhone was smart enough not to bother you with a passcode when you're home? Well now with a jailbroken iOS device and the CleverPin tweak, you can specify which Wi-Fi networks are safe. When your device is within range of these networks, it turns off the passcode automatically.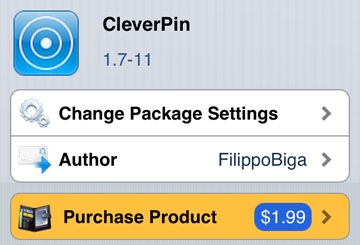 This means as soon as you leave one of the safe Wi-Fi networks on the list, your passcode will be re-enabled according to the Settings. For example, if your passcode is set to trigger immediately, then as soon as you're out of range of the safe Wi-Fi network the passcode will be enabled. But you won't have to bother entering the passcode as long as you're connected to one of the networks in the list.
Once installed, CleverPin appears in the Settings and allows you to customize its behavior. Of course, the tweak can be disabled and you can specify under what conditions the passcode is disabled. The list of safe networks is available and new Wi-Fi networks can be added to the list by just tapping a button. You can also switch off your passcode when playing music, charging your battery or when in Airplane Mode.
The passcode can also be enabled on timed schedule if you prefer. CleverPin requires iOS 4.1 or later and is available from the BigBoss repo in the Cydia jailbreak app store for $1.99.