Submitted by Bob Bhatnagar on
Pandora fans may have noticed the only way to give a thumbs up or thumbs down to a particular track is to have the app open. Of course, with iOS you can skip tracks using the multitasking switcher or by pulling up music controls on the lock screen. But this won't register your approval or disapproval of the track, steering the future of your radio station.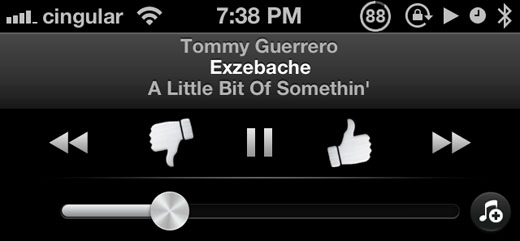 Now with the jailbreak tweak ThumbsUp installed, you can add thumb buttons to the lock screen music controls. This provides a simple and fast way to record your preferences with Pandora, without unlocking your device and navigating to the iOS app.
The tweak has no settings to configure beyond enabling the thumb buttons. When you first install the package, the tweak will be disabled. Navigate to Settings -> ThumbsUp -> Lockscreen Buttons -> Buttons -> ON. This will magically add the Pandora thumbs up and thumbs down buttons to the iOS lock screen music controls. By default, you can bring up these controls from the lock screen by pressing the home button twice.
Another nice feature of ThumbsUp is the ability to get a Pandora thumbs up or thumbs down to register via Activator. This means that you can actually assign any gesture from the Activator list to approve or disapprove of a song. Those who use Pandora frequently will appreciate this feature, as it means you can register your preference for a song from anywhere on your device.
ThumbsUp is available on Cydia from the BigBoss repository free of charge. Check here for
instructions on how to jailbreak iOS 6.x with evasi0n
. You can also find out
how to purchase and install Cydia tweaks with this guide
.