Submitted by Bob Bhatnagar on
Ever notice when Mobile Safari gives you suggestions to complete a search query that tapping them initiates the search immediately? Other browsers such as Google Chrome don't have the same behavior, the search query can be completed and reviewed before actually searching. Now thanks to the iOS jailbreak tweak Platinum, Safari can complete search queries, too.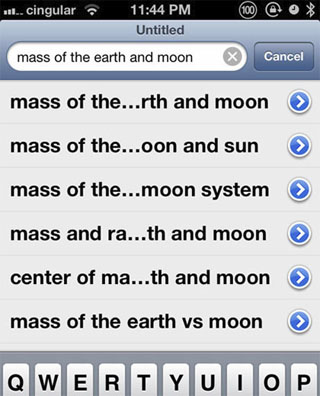 Once installed from the Cydia app store, Platinum has no options or settings to configure. The tweak simply adds circular blue arrow buttons to the right of auto-complete suggestions when typing in a Safari query. To complete the words in the query field with one of the suggestions, tap the blue button. If you prefer to initiate the search immediately then touch the words themselves.
It's that simple. Sometimes it's difficult to see exactly what the suggestions are, since they can be abbreviated by the screen width. Tapping the blue button will transfer the words to the Safari query field, which in some cases can reveal the entire search phrase in a smaller font size. In any case, having the option to choose exact phrases before starting the search can be helpful.
Platinum is available on Cydia from the ModMyi repo free of charge. Check here for instructions on how to jailbreak iOS 6.x with evasi0n. You can also find out how to purchase and install Cydia tweaks with this guide.