Submitted by Bob Bhatnagar on
Developer RiDan has cranked out several iOS jailbreak tweaks as part of his FunWeek project. The idea is based on Ryan Petrich's TweakWeek 2, which aims to bring iOS customizations to Cydia at breakneck speed. RiDan's latest creation provides a quick way to skip over many home screens and speed up access to the first and last pages.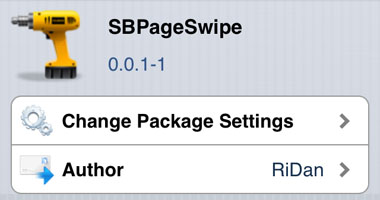 SBPageSwipe is so simple there are no options to configure. Once installed, swiping over the page dots at the bottom of the home screen will shortcut directly to the first or last home screens on your device. Instead of having to swipe several times to get to the end, the same feat can be accomplished with a single gesture thanks to SBPageSwipe.
If your iPhone has too many app icons to count, and there are several home screens to navigate, SBPageSwipe is an easy way to skip forward or backward without having to buy anything fancy.
SBPageSwipe is available on Cydia from the BigBoss repo free of charge. Check here for instructions on how to jailbreak iOS 6.x with evasi0n. You can also find out how to purchase and install Cydia tweaks with this guide.