Submitted by Bob Bhatnagar on
Notification banners that pop up on iOS can be informative but they don't hang around very long. There's no way to change the length of time these banners display on the screen, they mysteriously go away by themselves. Sometimes you'd like the message to stick around a little longer.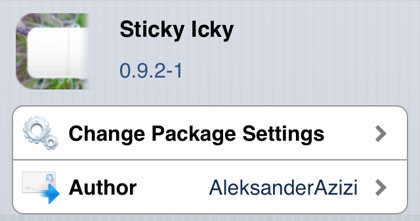 Now on jailbroken devices the a handy tweak will keep notification banners as long as you prefer. Sticky Icky will wait until you dismiss the banner to remove it from the screen. Don't mind the name, this tweak gets the job done if automatic banner dismissal is not for you.
Once installed, Sticky Icky provides options from Settings. The style of the dismissal button can be changed to an X, Red Minus, Shiny Blank or Arrow Down. There's also the option to remove the button altogether, since you can swipe right on the notification banner to remove it at any time.
Of course, you can tap the banner to open the associated app like normal. Locking the device will also dismiss any banner notification that remains displayed. When your iOS device is locked, notification alerts will appear normally as well.
Sticky Icky is available on Cydia from the ModMyi repo free of charge. Check here for
instructions on how to jailbreak iOS 6.x with evasi0n
. You can also find out
how to purchase and install Cydia tweaks with this guide
.