Submitted by Bob Bhatnagar on
One thing you can't do with iOS is create multiple user accounts, which means there's also no built-in guest mode. With only one passcode, when you lend a child or someone else your iPad or iPhone they can access many personal items and accounts. The jailbreak tweak iPrivacy seeks to change this by providing an easy way to set up guest mode to limit access to certain items.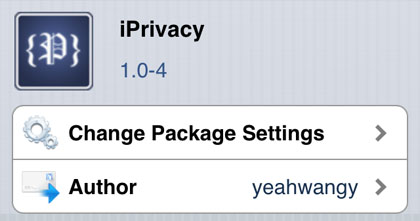 Once installed, iPrivacy will prompt you to set up a PIN to access iPrivacy settings on the device. Then from Settings -> iPrivacy there are a variety of options. Guest mode can be activated from the lock screen using a special passcode, which differs from your normal passcode. It can also be activated at any time using an Activator action or SBSettings.
The tweak is set up to use individual plug-ins to protect various parts of your home screen when guest mode is active. The default plug-ins include iPod, Voice Memos, Notifications, and Folders. When it comes to iPod options, iPrivacy sets restrictions on what content can be played when in guest mode based on ratings and explicit content. This is most useful for blocking content not appropriate for children who might be using your device. Voice Memos and Notifications provide different options to block access to memos and stop alerts from popping up depending on the settings.
By far the most useful and limiting feature for iPrivacy guest mode is the Folders plug-in. Not only can you block access to individual folders, or all folders, but app icon previews can be turned off entirely in this section. If a guest taps a folder that is protected, iPrivacy will request a PIN before opening the folder. For more detailed instructions on each section of the tweak, there are write ups under Settings -> iPrivacy -> Documents.
Currently, there's one plug-in for sale that adds functionality to iPrivacy. For $1.99 the Photos plug-in protects your Albums and Camera Roll from anyone using your iPhone or iPad in guest mode. The developer states that more plug-ins are on the way.
iPrivacy is available on Cydia from the BigBoss repo free of charge. Check here for instructions on how to jailbreak iOS 6.x with evasi0n. You can also find out how to purchase and install Cydia tweaks with this guide.