Submitted by Bob Bhatnagar on
Ever try to take a panoramic photo with the iPhone in a low-light situation? Not only does the image appear dark, but the panorama itself is prone to blurriness and stitching problems. Although the Camera app in iOS makes it easy to record the panorama, there's no option to turn on the flash.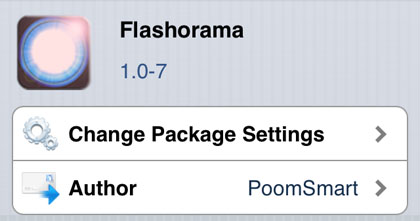 Luckily if you have a jailbroken device you can add this feature with the Flashorama tweak. Not only does this mod have a great name, it adds the standard camera flash button to panorama mode. After installation, tapping Options -> Panorama in the Camera app will display the flash on/off button in the upper left hand corner. You can switch the flash on before starting to record your panoramic photo.
Under Settings -> Flashorama there's an option to Auto Turn Off Flash, which automatically switches off the flash after the panorama recording is complete. You can also disable Flashorama from the same settings page, bringing your Camera app back to the default configuration. With the flash on during panorama recording, images in a dark setting will be sharper and look much like a normal flash photo. Arguably, the best place to shoot panoramic images is outside, where there's often plenty of light.
Flashorama is available on Cydia from the BigBoss repo free of charge. The tweak has been tested with iOS 6 and later running on the iPhone 4S, iPhone 5 and iPod touch 5G. Check here for instructions on how to jailbreak iOS 6.x with evasi0n. You can also find out how to purchase and install Cydia tweaks with this guide.