Submitted by Bob Bhatnagar on
Looking for a cool way to take advantage of your jailbroken iPhone? Although the tweak Barrel is completely cosmetic, it's an eye-catching customization to the stock home screen. Normally when you page through home screens full of icons, nothing interesting happens.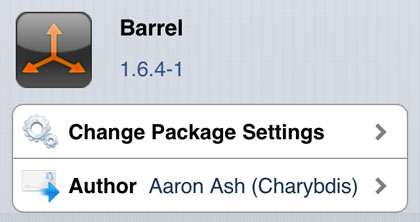 Barrel changes all this by offering a growing list of Icon Pages Styles, which are basically animations that take place to your home screen icons when swiping left or right. There are 21 different modes to choose from, not including Normal which turns off effects.
The complete list of animations includes:
Random
Cube (inside)
Cube (outside)
Page Slide Down
Page Slide Up
Curl and Roll Away
Curl and Roll Away Alternate
Vertical Scrolling
Page Fade
Stairs (down right)
Stairs (down left)
Page Squeeze
Icon Collection
Icon Scatter
Carousel
Flippy
Page Zoom
Pac-Man
Merry-Go-Round
Whirl
Snake
The different modes range from completely insane looking (Snake, Whirl) to a subtle upgrade in the movement between home screens (Cube, Page Fade). With Barrel installed, you'll never forget you have a jailbroken iPhone.
Jailbreak your iOS device with evasi0n to get Barrel from the BigBoss repo on Cydia for $2.99.