Submitted by Bob Bhatnagar on
The lock screen camera shortcut speeds up access to the Camera app when you need to snap photos in a hurry. But what if your iPhone isn't locked? What if you're in the middle of doing something else with your device, and a photo opportunity comes about?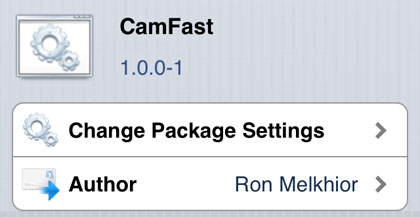 The Cydia addon CamFast is designed to help during these moments when you need the iPhone camera as quickly as possible. Once installed, you can assign any Activator action to CamFast from Settings -> Activator (of course, Activator must be installed). This means that any gesture from anywhere on your iPhone can be assigned to open the Camera app.
You can even use this gesture to open the camera from the lock screen, or within an app. CamFast makes it so that the iPhone won't even quit the app you're currently using to open the camera interface. Once you're finished taking pictures or recording video, simply press the home button to return to the app.
Another option for quick camera access is the QuickShoot tweak. Just double tapping the Camera icon will snap a photo. Although this is quick, there's no ability to see the interface and preview the photo. CamFast is versatile since you can use a gesture you prefer, and quickly open the Camera app from anywhere.
CamFast is available on Cydia from the BigBoss repository for free. Check here for
instructions on how to jailbreak iOS 6.x with evasi0n
. You can also find out
how to purchase and install Cydia tweaks with this guide
.