Submitted by Bob Bhatnagar on
Looking to change the iOS status bar color? Developer RiDan has released Status Color to provide jailbreakers with a simple way to do just that. Once installed, Status Color adds RGB sliders to Settings -> StatusColor, allowing the user to pick any hue possible. This is a great way to match home screen backgrounds and create a unique look.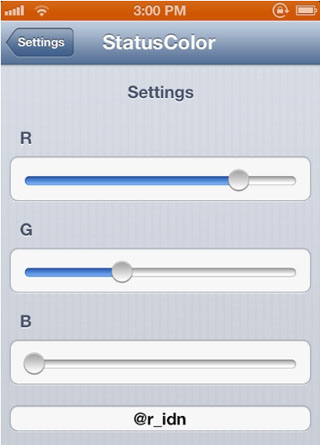 Once the red, green and blue values are selected, changes appear immediately with no respring necessary. RiDan has produced Status Color as part of his FunWeek project, which pays homage to Ryan Petrich's TweakWeek 2. During the event, several developers commit to releasing one iOS jailbreak tweak every day.
Status Color has no other options to configure. This tweak is a simple and free way to achieve a custom status bar color without any hassle. No other appearance or behavioral characteristics of the iOS status bar are changed except for the color.
Status Color is available on Cydia from the BigBoss repo free of charge. Check here for instructions on how to jailbreak iOS 6.x with evasi0n. You can also find out how to purchase and install Cydia tweaks with this guide.