Submitted by Bob Bhatnagar on
Some iOS tweaks are so straightforward it's incredible that Apple didn't already incorporate them into the iPhone. Swiping is one of the most commonly used gestures in iOS. So why is it that every time you want to switch threads in Messages you have to go back to the main messages list?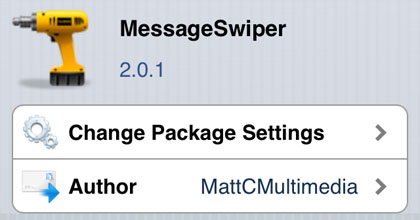 Now with a jailbroken device and the free tweak MessageSwiper there's an easier way. While reading messages from one of your contacts, simply swipe left or right to switch conversations. The tweak will cycle through your threads with different people and groups in the same order they appear on the main messages list.
Although the tweak doesn't provide any slick animation yet, MessageSwiper works as described and the price is right. One thing to keep in mind, when you swipe past your most recent message thread the tweak will automatically loop to the bottom of the message list. This means the oldest messages on your device will be displayed. For those with messages from way back it could be a trip down memory lane. After all, when was the last time you swiped to the very bottom of your message list?
MessageSwiper is available on Cydia from the BigBoss repo free of charge. Check here for instructions on how to jailbreak iOS 6.x with evasi0n. You can also find out how to purchase and install Cydia tweaks with this guide.