Submitted by Bob Bhatnagar on
Sometimes respringing a jailbroken iPhone results in the display brightness dropping to its dimmest level. This quirk is all due to developers killing SpringBoard instead of backboardd to perform the respring. Although many developers have updated the respring method for iOS 6 in their apps and tweaks, some have not.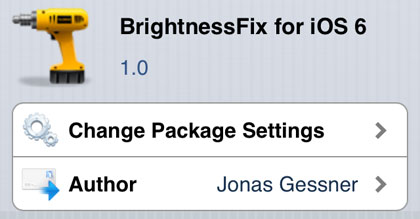 This is where BrightnessFix for iOS 6 comes into play. Installing this tweak will eliminate the display brightness issue completely by ensuring your iPhone retains the brightness level that is set before the respring.
This is great, because jailbroken iPhone users no longer have to guess if respringing will dim the screen, requiring adjustments from the Settings. To keep your brightness setting from changing because of an app or tweak respring, install BrightnessFix for iOS 6. The tweak has no settings to configure and requires no input from the user to work.
BrightnessFix for iOS 6 is available on Cydia from the ModMyi repo free of charge. Check here for instructions on how to jailbreak iOS 6.x with evasi0n. You can also find out how to purchase and install Cydia tweaks with this guide.