Submitted by Frank Macey on
Whether you prefer analog or digital watches, there are now an increasing number of options for iPhone owners looking to take advantage of Bluetooth 4. The low-power technology makes it possible for these watches to connect to the iPhone all day and deliver alerts and data directly from the smartphone. Citizen and Casio have independently announced two options for those who will be in the market for a new wristwatch.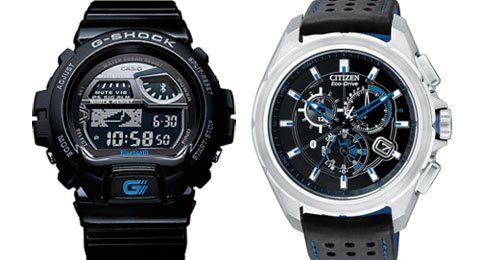 On the left, Casio's entry is the Bluetooth G-Shock which retails for $180 and delivers all kinds of data via the digital display. On the right, analog fans will find the Citizen Eco-Drive Proximity fetching $495 and delivering alerts through vibration and notification areas on the watch face. The Proximity comes in two color combinations, blue accents with a silver body or green accents with a black body.
Casio touts the fact that the Bluetooth G-Shock battery will last two years, even when staying connected to your iPhone for 12 hours per day. The watch automatically disconnects and reconnects to Bluetooth 4 when needed. With scrolling text, the watch can tell you information such as who's calling or what song you're currently playing on your iPhone. G-Shock fans will be happy the watch is water resistant to 200 meters and will withstand plenty of other abuse.
The Citizen Eco-Drive Proximity is solar powered, includes a perpetual calendar, and is water resistant down to 100 meters. Depending on the type of alert, the analog motions of the second hand and an additional indicator will let you know what's happening on your iPhone.
Both watches will sync to the iPhone's time automatically and can find a missing iPhone provided it's still within range of the Bluetooth signal. In fact, they will let you know when the watch is getting too far from the Bluetooth signal, which might help you to remember your phone. Casio and Citizen have engineered their Bluetooth watches for compatibility with the iPhone 4S and the iPhone 5. Look for both watches to hit the US market soon.