Submitted by Bob Bhatnagar on
Maybe you've never heard of OBD-II. Simply put, this On-Board Diagnostic system is a computer found on cars built after 1996. Now the data collected by this computer can now be accessed by the Griffin CarTrip On-Board Diagnostic Computer Reader. But why would anyone need this data on their iPhone?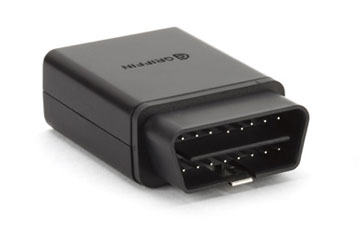 Well for one you can find out exactly why your "check engine" light is on by retrieving the code, even reset the lamp without going to a garage. This alone could save some money, but performance monitoring can help save gas, too.
CleanDrive is Griffin's iPhone app that will interface with the wireless Bluetooth OBD-II reader. The software will collect fuel consumption, acceleration, top speed and engine diagnostic codes while you're driving. The numbers can all be analyzed and displayed in easy-to-read charts, even summed up into a "Carbon Score" that lets you know how your driving style impacts efficiency and emissions.
According to Griffin CarTrip features include:
- Wireless car computer monitor, compatible with most passenger vehicles built since 1996
- Wireless On-Board Diagnostic II reader/logger interfaces with your mobile phone or smartphone via Bluetooth
- Gathers OBD-II data including acceleration, top speed, fuel consumption, fault and pending codes
- CleanDrive App (a free download) analyzes data and displays it instantaneously in an easy-to-read graphic format
- Instantaneous trip and long-term data analysis equips drivers to drive more fuel-efficiently
CarTrip requires iOS 4.0 or later and a vehicle with an OBD-II port. The device will be available soon for $89.99. CleanDrive will launch in the App Store for free.