Submitted by Frank Macey on
What looks like it could be an April Fool's joke is actually a product vying for support on the fundraising site Indiegogo. Appropriately named the Uppercup, this device will not only protect your iPhone, but it will also hold a steaming hot cup of your favorite caffeinated beverage.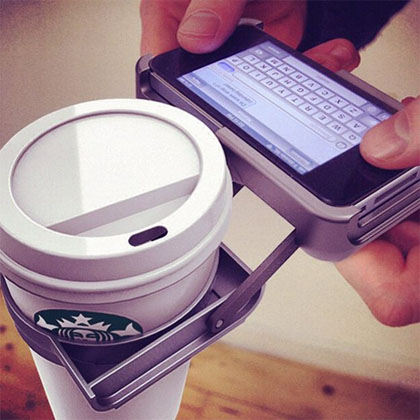 Marketing company Natwerk, based in Amsterdam is seeking $25,000 to start production of the UpperCup and start selling the cases for a retail price of $35. Of course, if you kick in $25 or $30 on Indiegogo, donations are rewarded with an Uppercup from the first production run (iPhone 4/4S and iPhone 5 respectively).
According to Natwerk:
No more one handed typing. No more spilling coffee on your lap. Have your hands free for your optimal texting, gaming and social networking pleasure. Ever since the 1st smartphone came to the market we all have been waiting for Uppercup. The first cupholder for the iPhone. Together we can change the world with this revolutionary product.
Although we're not sure that the Uppercup will "change the world" it could be worth it just to see the look on other people's faces. Not sure how easy it would be to hold a Venti latte and type on the iPhone keyboard given the physics involved. Regardless, the Uppercup is a unique concept, which folds up into a normal iPhone case when not being used as a cup holder.
Check out the Uppercup on Indiegogo.