Submitted by Frank Macey on
PayPal is taking a new step into the smartphone arena with an iPhone accessory designed to accept payments anywhere there's a data connection. When we first wrote up competitor Square in 2009, the concept of a small device that plugs into the headphone jack and accepts credit card data was a work in progress.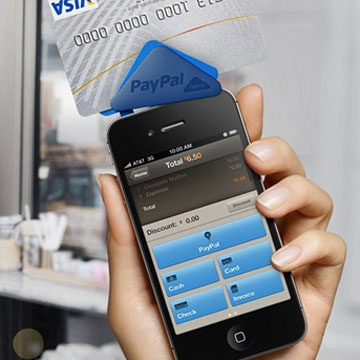 The latest entry into the market is dubbed PayPal Here, and moves PayPal's services even further into the offline, brick and mortar world of commerce. Not only does PayPal's device and software swipe credit cards, but merchants can process checks using the iPhone camera, track cash payments or send invoices out for later payment.
eBay owns PayPal, which provides payment services for online auctions, however the company has recently made a deal with Home Depot to allow patrons to pay using their PayPal accounts at retail stores. It's likely a trend that will continue as more retailers seek to offer their customers the convenience of paying with as many methods as possible.
Currently the PayPal Here app is only designed for the iPhone, although it will run on an iPad. Square has been around longer and its apps are available for other devices besides just those running iOS. So if you're looking to accept payments using PayPal Here what are the charges?
PayPal takes 2.7 percent of each credit card or PayPal transaction, which ends up 0.05 percent less than Square's 2.75 cut. Charges will be higher for manual entry of credit cards, with the fee going up to 3.5 percent plus 15 cents. Accepting checks turns out to be the best deal, with PayPal Here charging nothing off the top to photograph a check. The service is already at selected retailers and will roll out nationwide over the coming month.