Submitted by Frank Macey on
There's no shortage of things you can do with your iPhone or iPad these days. Now Griffin has released a brand new toy for remote control enthusiasts who happen to have an iOS device. The MOTO TC Monster is the second AppPowered vehicle launched by the company. This monster truck can be controlled directly on the touch screen with a free app.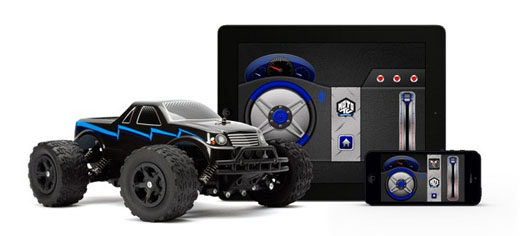 Griffin previously released the HELO TC Assault helicopter, which is also app controlled from an iOS device. Unlike the MOTO, which uses Bluetooth to connect to the iPhone, the HELO uses a special Flight Deck adapter that beams infrared signals to the helicopter in flight.
Controlling the MOTO truck is pretty intuitive, with several options. The touch screen can be used with a virtual steering wheel and throttle, or by sliding your finger across the display to choose a direction. The iPhone or iPad can also be tilted to steer using the internal accelerometer and gyroscope. You can even run the monster truck through a series of preset tracks programmed on the device.
What's cool is that because the app controls the truck, you can actually record your own route using the app and watch the vehicle re-drive the path during playback. MOTO promises a high-clearance chassis and four-wheel independent suspension to tackle rough terrain. The truck comes with its own 4.8-volt NiMH rechargeable battery pack for $59.99 directly from the Griffin online store.