Submitted by Frank Macey on
Most of the time we see products such as cases that convert the iPad into a notebook computer. The ClamCase is one example which simply adds a keyboard to the iPad display. Now the makers of ClamCase have their sights set on iPhones with the upcoming ClamBook.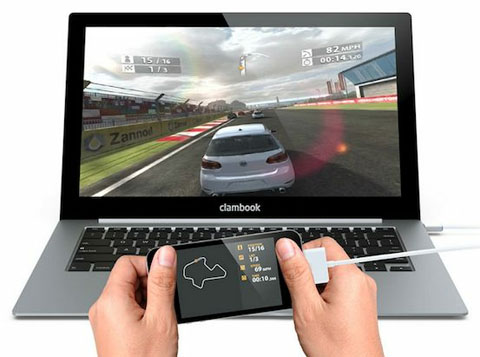 ClamBook connects to your iPhone, providing a full 16:9 LED backlit laptop display and normal sized keyboard. Since the smartphone is the brains of the ClamBook, the unit is extremely thin and runs cool. The built-in battery powers the screen and charges the iPhone when connected.
ClamBook resembles a MacBook Air, with aluminum construction and slim, polished design. The unit features 3D Cinema Sound and thanks to the film-aspect ratio display HD video fills the screen. Although it may have an Apple-esque look, the ClamBook reserves most of its key features for Android smartphones. A multi-touch track pad and dedicated Android keys are designed for Android 4.0 (Ice Cream Sandwich). Motorola device owners will be especially happy as they can run the Webtop application, making ClamBook behave just like a desktop computer.
We look forward to seeing what software will arrive for iPhone users on the ClamBook. It's possible that jailbreak developers will want in on the action, as the accessory's hardware looks great. The ClamBook will launch before the holiday shopping season later this year.