Submitted by Chad Shmukler on
Many of us are already owners of the excellent V-Moda Vibe Duo headphones made especially for the iPhone, which provide excellent sound quality and style along with the same control features provided by the standard iPhone earbuds. For those of you who haven't upgraded the stock iPhone earbuds and are considering doing so, you might consider Seidio's latest offering which provides expanded controls over both the iPhone and V-Moda earbuds.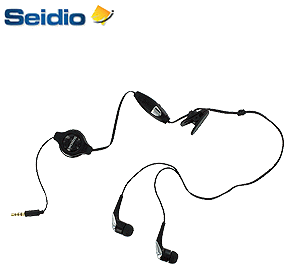 These latest earbuds from Seidio, the Seidio 2-in-1 In-Ear Isolator Headphones, offer the same answer/hang-up and play/stop controls of competing modules. However, according to Seidio, they also offer volume control - a feature
some have claimed is sorely lacking from both Apple and V-Moda's iPhone earbuds.
In addition to the volume control feature, the Seidio earbuds also offer a retractable cord. Though the V-Moda headphones are excellent at avoiding tangles due to their fabric coating, the same can not be said of the Apple earbuds. The Seidio's offer an optional retracting cord housing that neatly tucks away unused wiring.
Also listed as features of the
2-in-1 In-Ear Isolator Headphones
are a sensitive microphone, a rotating shirt clip, and high performance earpieces rated to provide top sound quality.