Submitted by Anders Batten on
Accessory makers used to be a great source for next-generation iPhone rumors, but they lost most of their credibility after the teardrop iPhone 5 debacle of 2011. This is why I wouldn't get too excited about Elago Design's "Slim Fit 2 Case" for the iPhone 5C that has recently popped up on Amazon. In case you missed the memo, the iPhone 5C is the rumored name for unannounced "low-budget iPhone" Apple is expected to launch in the Fall.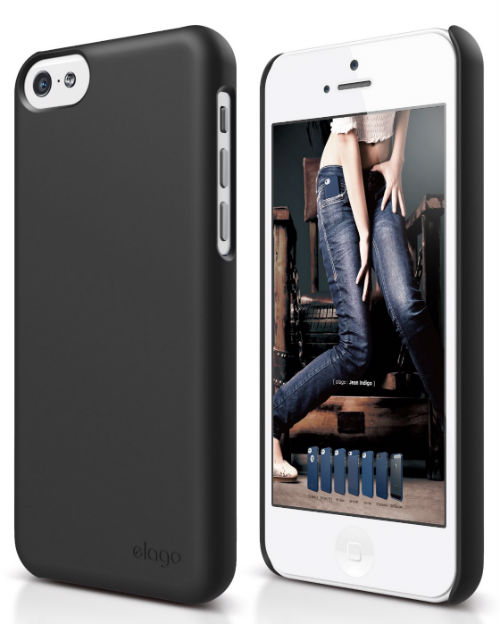 We got the first glimpse of the iPhone 5C name and logo in an alleged leaked photo of its packaging over the weekend. Apple has not confirmed or denied that they're releasing a low cost, plastic iPhone, so it is hard to know if the image is legit. However, this hasn't stopped Elago Design from listing their iPhone 5C case on Amazon, but they have seemed to stop taking pre-orders for the accessory.
The Slim Fit 2 Case was originally listed as $24.99, with a shipping date of August 23rd. It is unclear if they just sold out of pre-orders, or just pulled them after all the attention they started receiving. Here is the official production description from the Amazon page.
Improved Features
Our new S5C Slim Fit 2 case for the iPhone 5C lets you protect and cover your phone in style! The case was molded to fit perfectly and allows easy, full access to all buttons and ports on your device.
Our Slim Fit 2 cases are specially coated to reduce the amount of scratches, oil, and dirt residue left on your phone, all while improving grip quality.

The case's design allows you to use your phone as if there was nothing attached to it at all; remove it from your pocket or purse with no hassle!

Though we could have manufactured our products through China, elago chose to manufacture and produce products through Korea to assure quality control and the use of toxic free chemicals in the plastic.

The iPhone 5C is a phone with remarkable design and it needs the proper case to compliment it. Clothe your phone in the crisp, clean style it deserves with our S5C Slim Fit 2 case! Check out all of the eye-catching colors available!

The elago S5C Anti-Ghost Camera Hole
elago sticks with their motto "Design is Improvement" with the S5C Anti-Ghost Camera Hole cutout.
When designing the new S5C case line for the iPhone 5C, elago's design team followed Apple's guidelines for the camera's capabilities.

To prevent unwanted shadows and color reflections when using the flash, the S5C Anti-Ghost Camera Hole cutout was designed.

Now you never have to worry about taking pictures with the iPhone 5C when using this case!

Model
elago S5C Slim Fit 2 Case

Case Compatibility
iPhone 5C
[via NowhereElse]