Submitted by Sammy Snyder on
Apple has spiced up its fatigued iPhone lineup with the colorful iPhone 5c, and a new line of colorful iPhone 5c cases. The iPhone 5c is less about being "low cost" like we were promised, and more about offering options to users who don't care about specs. Apple's iPhone 5c cases are available in all the same colors as the device itself (lime green, white, yellow, red and light blue) allowing you to match colors, or go with a secondary choice for a two tone look. You can use the official Apple iPhone 5c color selector to play around with different combinations.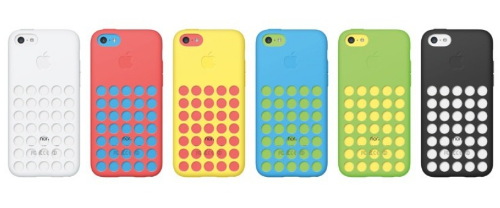 The iPhone 5c cases are $29 each. Apple is also releasing a special iPhone 5c dock for $29. You can pre-order the iPhone 5c and its accessories on September 13th.
Both the iPhone 5s and iPhone 5c will be available on September 20th. The iPhone 5c 16GB model is $99 with a two-year contract, and the the 32GB version is $199 on contract. If you buy a Apple-branded case, and dock, that ads up to $157 for the 16GB, and $257 for the 32GB model. Which is not so low cost after all.