Submitted by Marshall Walker on
I thought Extinction Squad from Adult Swim would get boring fast, but I found it fun and challenging enough to hold my attention for quite some time. I don't know if I would drop $0.99 on it, but luckily for everyone it's free this week.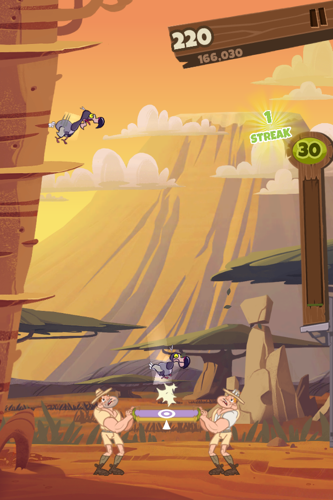 Extinction Squad is a very simple game, you must use your two scientist and a trampoline to bounce falling endangered animals into your truck. There is an Adventure mode, where you can unlock and travel to different locations such as Africa and Australia, and a Countdown mode, where you try to save as many animals as you can before time runs out.
Dodos, gorillas and pandas are not the only things falling from the sky, there are also coins, power ups and bombs. The game gets much easier once you realize you don't need to catch every animal, and you start concentrating on dodging the bombs instead. You can miss as many animals as you want, but catch one bomb and your game is over. I say "catch" because you can bounce bombs off your head (and animals to keep them in the air), which is also one of the many achievements in the game. Completing achievements earns your stars, which earns you coins, which you can then use to unlock more locations, buy upgrades and continue a lost game. You can buy as many coins as you want as an in-app purchase, but they're earned easily enough that you shouldn't have to spend your hard earned cash.
Extinction Squad is currently free to download from the Apple Store. Don't pass it up, because it's only free for this week, then it goes back to being $0.99.