Submitted by Sammy Snyder on
Glu Games has released the follow-up to its popular iOS and Android game Samurai vs Zombies Defense. The sequel offers the same side-scrolling zombie slicing action as the original, plus a variety of new features. Users can now buy/unlock multiple heroes, new upgrades and even compete in multiplayer modes. You can also attempt to complete a "Daily Challenge" to earn new prizes each day.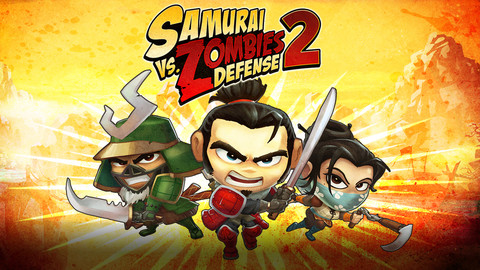 The game is still free to download, and features the same pop-up ads, in-app purchases, and gem system as the original. Hopefully you can still earn free gems from playing the game, and not by only completing surveys. There is also an unlockable "Sorceress" character for $59.99!?!
If you are new to the world of Samurai vs Zombies, it's an addictive and challenging game where you must use a variety of samurai warriors, magic spells, charms and towers to defeat samurai zombies. It is the type of strategy / tower defense game where you send your own waves of soldiers while controlling the main hero by moving forward and backwards. Along the way you collect coins and rare gems to buy upgrades, new weapons, towers and other power ups to grow stronger. The best part is you do not need to spend real money to complete the game. However, it may take playing various levels multiple times before you're able to collect all the power ups and experience needed to defeat the stronger bosses and enemies.
Samurai vs Zombies Defense 2 is now available for free through the App Store. It's compatible with both the iPhone and iPad, but it requires iOS 5.1 or later to work. It is also optimized for the iPhone 5.