Submitted by Marshall Walker on
JED-GO Untouchable from JED GAMES is currently free through the Apple App Store, but so is the classic iOS game Cowboy vs. Zombies. Both games are simplistic shooters where players must defend themselves from waves of zombies. In JED-GO the player is tasked with defending three tiers of artificial brains from various alien created monsters. The game features plenty of upgrades, weapons and 48 different levels through four different scenarios (Desert Encounter, Toxic Sewage, Mutation Plant and Space Invasion). However, you'll probably get bored of the game before you have a chance to buy anything cool (like a pet dragon), or get to the Toxic Sewage stage.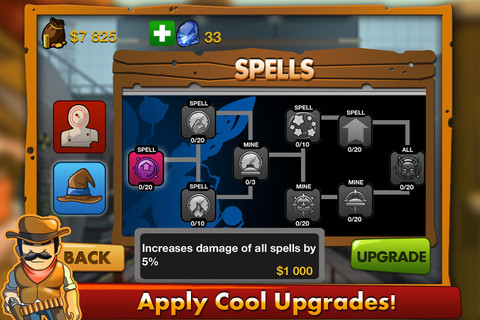 JED-GO Untouchable defiantly tries to be interesting with its various over-the-top upgrades and creatures, but its tedious gameplay will bore older players. The game is more suited for children than gamers looking for a fun and simple zombie shooter to pass the time. Cowboy vs. Zombies may be less creative than JED-GO, but it offers a more challenging gaming experience.
In Cowboys vs. Zombies players must avoid shooting human survivors while trying to take down advancing zombies who zigzag and jump all over the screen. Hitting a human reduces your score, and rolling tumbleweeds will block your bullets from hitting their target. This is a lot more interesting than just moving up and down like you do in JED-GO
The game features two difficulty levels (easy and hard), various weapons, allies and upgrades you can buy, plus Game Center support.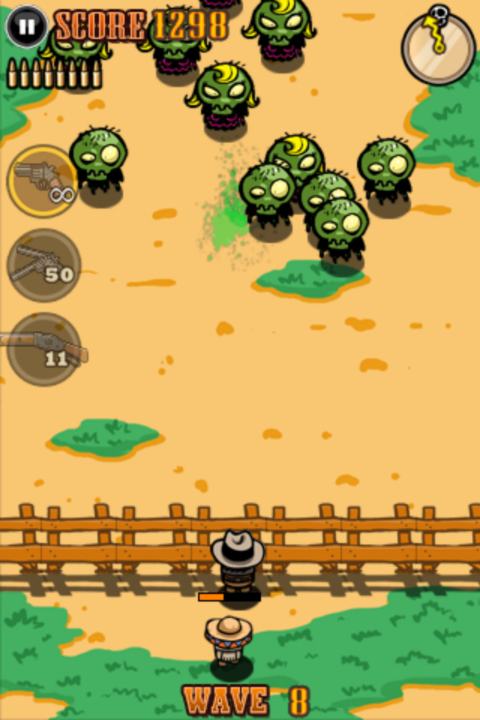 Neither of these games are that challenging or that advanced, but you'll find yourself suffering less from video game hypnosis while playing
Cowboys vs. Aliens
. Both games are currently available for free through the App Store.
JED-GO Untouchable is a universal app and requires iOS 4.3 or later. Cowboys vs Zombies is also universal and requires iOS 4.2 or later.