Submitted by Marshall Walker on
The National Rifle Association has released an app for iOS devices called "NRA: Practice Range". The app description reads: "Meet NRA: Practice Range – the NRA's new mobile nerve center, delivering one-touch access to the NRA network of news, laws, facts, knowledge, safety tips, educational materials and online resources." However, the included 3D shooting game and age rating of 4 and above has ruffled some feathers during a time when gun control is being heavily debated in the U.S.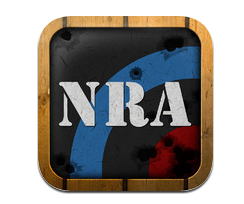 The Target Practice game promises: "A 3D shooting game that instills safe and responsible ownership through fun challenges and realistic simulations. It strikes the right balance of gaming and safety education, allowing you to enjoy the most authentic experience possible."
It offers 9 firearms, 3 immersive shooting ranges, 3 distinct difficult levels and Game Center support.
Surprisingly there are only a few anti-gun comments in the reviews section, but it's safe to assume that will all change as the app is getting more attention a day after its release.
For those interested, the app is free to download from the
App Store
.