Submitted by Bob Bhatnagar on
Wouldn't it be convenient to keep the most important pending reminders in a place where you'll actually read them throughout the day? Now with the tweak Reminders+ and a jailbroken iOS device, users can link specific tasks from the stock Reminders app to the lock screen.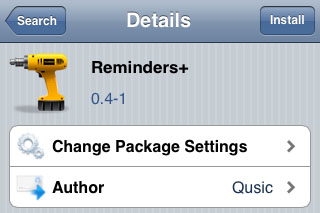 The tweak works by adding functionality directly to the Reminders app. Simply tap and hold the reminder you want to pin to the lock screen, and a menu will pop up. Tapping Add Bulletin or Remove Bulletin will add or remove the reminder from the lock screen, it's that simple.
The next time your iPhone is locked, the reminders you have selected appear in a list on the lock screen, keeping you reminded. To directly access the Reminders app, just tap and slide on the reminder directly from the lock screen. Once you check off a task as completed, the reminder will automatically be removed from the lock screen.
Reminders+ also makes it possible to remove a pinned task from the lock screen without opening the Reminders app. Just slide and hold until the reminder disappears from the lock screen. You can install Reminders+ from the BigBoss repository in Cydia free of charge.